So, the big question, what is this blog all about? Well, I recently got some inspiration from a home improvement project that we undertook this last weekend. We installed a wood-burning stove in the main living area of our house. After I got home from work on Monday, I sat on the couch just taking in the heat from the fire. I got to thinking about how warm and inviting the fire made the house feel. It made me think about other things that are literally warm, make people feel warm from the inside out, and that just make a place feel warm and inviting. To me, 'Warm' means inviting and 'Bouquet' means variety, so it just made sense to name my blog Warm Bouquet. I will try to convey a Warm Bouquet of things that inspire me and maybe, just maybe they will inspire you too!
Here is a picture of the home improvement in progress. We still have a few "finishing touches" to do, but overall, I find it beautiful, rustic, and inspirational. I plan to sit in front of the fire and become inspired all season long! Take a look and imagine yourself curled up with a cozy blanket, a warm beverage, and a book or imagine yourself snuggled up with your family under that cozy blanket.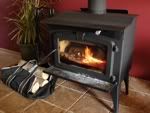 Ahhh, now isn't that lovely?