You may hear rumors that I never seem to decorate for some of the holidays. In a way, that is correct, but it certainly is not that I don't want to. I just can't ever seem to find "just the right style" for my decor. Now that we have the wood-burning stove and I know the plans for the rest of "that area" and the kitchen, I have a much better idea of how to decorate for ALL of the holidays. The house seems much more rustic than it did before, so bring on the "Rustic" decor!
My inspiration for the start of my winter/holiday decor comes from the Great Outdoors. I like a rustic look to my Christmas decor (with the exception of the tree). By the way, have I mentioned I like the "Rustic" look? ;-) I also enjoy the smells of Christmas and winter. You know, pumpkin spice, cinnamon, balsm pine, cedar, those smells. I associate them with Christmas and the winter season because it is always so cold here and they remind me of warmth.
Anyway, onward... For my first purchase, I did go a little overboard, but I was excited. I try to either find items that I already have or find things that are seriously clearanced out or on sale. I couldn't wait, I knew exactly what I wanted to set on the hearth next to the stove for the winter/Christmas season. Since I am a very FREQUENT customer of
JoAnn's Fabrics and Crafts
, I was extremely excited to find a great "little" basket at 40% off of $14.99 and cinnamon scented pinecones (2 bags for $8.00). I know, not the greatest sale, but hey, it was still on sale! Oops, I almost forgot, I also bought a silk pointsettia pick for 50% off $6.99.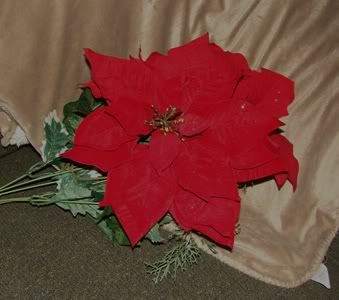 It may not be significant, but with the stockings and tree skirt I plan to make, along with all of the rest of the holiday decor that will be set out after Thanksgiving, it will look absolutely perfect. The best part is that I don't have to put them away after Christmas. The basket and pinecones can stay and I can just change out the pointsettia with something else that's a little less Christmas-ish.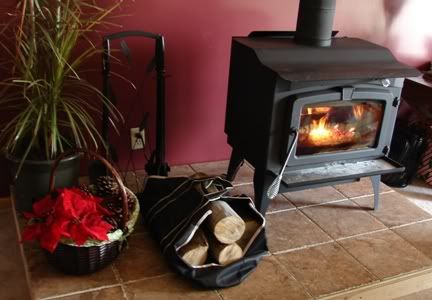 Now, I just hope my husband doesn't decide to use the pinecones as fire starters!
That would make me very sad.